Will the Rock Melt ?
RockMelt - The browser is turning social
Wednesday, December 8, 2010
Are you an explorer, a fox on fire? Do like opera or go on safari ?
If you've experienced all the above, well now you have a rock to pick. A new browser with a funky name is entering the scene: RockMelt. Please applaud!
After hearing the news, I got excited, so I rushed into
RockMelt website
to download my copy. I was a bit disappointed to find that I had to connect to Facebook and request an invite, so I did. Gladly after couple of days I received an invitation…It took around 10-15min to download RockMelt over my ADSL connection.
When I launched the browser, a window opened requesting my Facebook account, so I typed my login information and waited…And there it was, the excitement was over : RockMelt was actually Google Chrome!! At first I couldn't understand why do I need to bother with a Chrome clone ? But soon I realized that RockMelt was more than just that.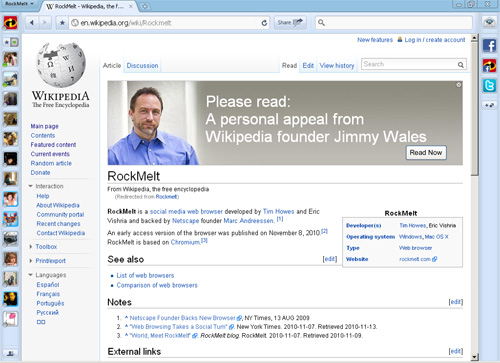 At the left of the screen my friends list loads inside the Friend Edge showing me who is online, idle or offline. At the right useful buttons to access my Facebook News feed and profile. So I spent the next 30min playing with the rock.
What I liked the most about the browser is sharing any website I visit, the link is instantly posted on the wall. Of course you have to be logged in into your account. That's quite useful when a website does not have a Facebook share button.
RockMelt integrates the most used Facebook features into its graphical user interface so you can take advantage of the social tools even when you're not on Facebook website. All you have to do is login when the browser starts and you can do almost everything you do on Facebook. You can write what's on your mind, change your online status (although it's still buggy), check your News feed, even read tweets if you are a twitter addict, just login into your Twitter account.
The browser still needs some work, for instance checking your friend's recent activity isn't quite handy, the text overlaps due to the small size of the window. Overall it's good considering a beta version. There's still time for improvement.
If you're interested in knowing more about this new browser continue reading
A year ago before the release of the beta version, it was rumoured that the browser would be a complete redesign from the ground up, if this was true, it would have been a huge project considering that so many browsers are fighting to gain market share.
In fact RocketMelt is based on
Google's Chromium
open-source project, which is gaining popularity among Internet users. Even Google Chrome is not a browser from scratch, it has the WebKit rendering engine, which is used by Apple's Safari.
If you're wondering who's behind RockMelt, well it's the famous Marc Andreessen, co-author of Mosaic and co-founder of Netscape. He is back into the browser's scene after losing the war with Microsoft. Well back in the 90s, Netscape was the dominating browser, its success caught the attention of Microsoft, the latter launched Internet Explorer. In few years Netscape was ancient history.
Marc Andreessen is on RockMelt's Board of Directors. Is this a new battle ? Will Microsoft be jealous of RockMelt social features and retaliate?
According to
NetMarketShare
Microsoft's Internet Explorer still dominates the browsers' market with 59.18%. In second place, Firefox with 22.83%, gaining a lot in recent years, Google's own browser Chrome shines with 8.50%, followed by Apple's Safari 5.36%, followed by Opera (2.29%), Opera Mini(0.95%) and Netscape 0.63% which was the original browser everyone was using back in the 90s
Since the late 90s Internet Explorer is continuing to lose market share and maybe in a decade or so it will be left behind. Some actually hope so!
Although it is still early to know how much will RocketMelt climb, I wonder if the rock will melt and have Netscape's fate.
Personally I see great potential in this browser, the social features put RockMelt ahead of Internet Explorer and Firefox. Another interesting fact is that
Marc Andreessen is also on Facebook's Board of Directors
This might lead to more collaboration between Facebook and RockMelt. If Facebook buys RockMelt, it would be great news for the browser, maybe Microsoft will be interested too and buy both Facebook and RockMelt!
I guess everyone is excited about this new browser, many on
RockMelt's facebook page
are asking for an invite. Some fans have even given the browser a nickname: RM.
One feature I would like to see in RM is "Starred" in case I would like to follow a post from any Facebook page or friend.
Will I make RockMelt my default browser? I think I will have to wait and see, but I recommend you give it a try, especially if you're a Facebook fan.